The Criminal Records Bureau (CRB) and the Independent Safeguarding Authority (ISA) have merged into the Disclosure and Barring Service (DBS) and therefor CRB checks are now called DBS checks. There will of course still be some references to CRB but any branded certificates etc should just be treated the same as DBS and are still relevant.
The aim of this information and why it's required is to ensure that you are of good character for such a public facing job and allows the Public Carriage Office (PCO) to make an informed decision taking into account searches of police records, etc.
You will be required to apply for an enhanced check and this looks at :
spent convictions
unspent convictions
cautions
reprimands and final warnings
If any information comes to light on the above then the licensing authority will give consideration to your suitability based on the following criteria:
nature of the offence(s)
circumstances in which any offence was committed
subsequent periods of good behaviour
overall conviction history
sentence imposed by the court
any other character check considered reasonable (e.g. personal
references)
The safety of the public is the main concern and so in some instances having a conviction will not hold you back but in some cases it will. If you have any of the following convictions it is unlikely your application will be successful:
Any conviction for a major violent offence (murder, manslaughter etc)
You have more than one conviction of any type of violent offence in the last 10 years
You are still serving a custodial sentence, even if you have been released early on licence or the sentence was suspended
Have been convicted, cautioned or subjected to any other penalty for a serious sexual offence (rape, indecent assault, trafficking, possession of indecent images etc)
Have been convicted, cautioned or subjected to any other penalty for more than one sexual offence of any type, irrespective of age
Are listed on the Individual Safeguarding Agency's barred list
Have been convicted, cautioned or subjected to any other penalty for touting in the last 12 months or have more than one penalty for touting in the last five years
Convictions
When applying for a private hire licence, having a conviction needn't be the end of the process but each case will be decided on its own merits so there won't be a set in stone answer to say whether you will be accepted or not. The Licensing Authority wants to ensure that it's drivers are honest and will provide a safe and trustworthy experience for the customer.
How to apply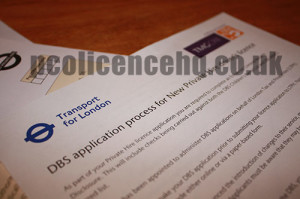 You must apply for a DBS check through TMG CRB, TfL's service provider and this must be done before you send in your PCO Licence Application. It takes around 4 weeks for this to go through and costs £56.85 for online applications and £58.85 for paper applications. Online is easier and slightly cheaper and you will need access to a computer, a valid email address and printer. All this is explained in a sheet included in your application pack.
The online application can be completed with these five steps:
Go to www.online.tmgcrb.co.uk and select Register, using the PIN code (104172) and secret word (tphcrb).
Complete the application online with all your details.
Select the documents you want to use for verification using the online help tool.
Head to the Post Office with your barcoded sheet (printed at home from the online system) and your ID to be verified at the Post Office and then pay for the application.
Your E-number will be available three working days following ID verification at the Post Office and you will need this for your PCO Licence application.
Need help?
For help and support during the criminal record check application process contact the TPH CRB administration team:
1 Wilford Business Park
Ruddington Lane
Nottingham
NG11 7EP
Telephone: 0845 251 5000
Email: [email protected]