Once you've got your PCO Licence then it makes common sense that you're going to want to get a job as soon as you can so you can start earning money with many drivers regularly earning in excess of £1000 a week. Of course that's by working hard and you have to get a job in the first place but here we can show you the type of jobs you could go for.
Most of the time if you're looking to get licensed then you'll probably be looking to get a job as a minicab driver but there are plenty of other jobs out there that require this type on licensing and these are detailed below:
Minicab Drivers
This is the most common job for licence holders to get into as there is always a large demand for drivers so finding work is generally easier. There are also lots of benefits as working hours are flexible meaning it can fit around the variety of lives people lead so you can either stick to a 9-5, work evenings, or any hours you want.
You don't necessarily have to own your own vehicle (which must be licensed) as you can sometimes rent a car from the minicab operator you are working from.
A positive of this job is that you also get to meet lots of new people and don't have to work in a office, although be prepared for periods of waiting for dispatch to call you up with new jobs.
Chauffeur Drivers
Chauffeur driving is much like minicab driving but there are some notable differences:
Bookings will often be regular and booked many weeks in advance.
You may be hired for the whole day by a single client.
You will be expected to be smartly dressed and this can sometimes include wearing a suit, short and tie.
Your car will have to be a newer, higher end model such as a Mercedes or BMW and this goes hand in hand with keeping it clean and well presented.
If you've got the right demeanor then this could be the perfect job for you with some great perks thrown in too.
Airport Transfers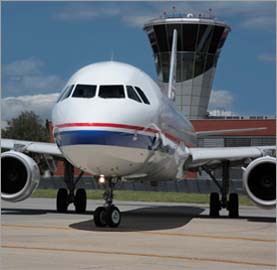 Some companies specialise in airport transfers and this can often mean a lot of motorway miles but will also guarantee higher fares and quite often a good tip from tourists. You'll need a reliable car that can fit a whole family as well as lots of space in the boot to fit suitcases etc. Airports are busy places with flights 24 hours around the clock so again there's a good chance of plenty of work and definitely won't be your typical 9-5 shift.
How much can you earn?
The fact is that the more you work the more you can earn, simple as that. If you work a 50 hour week you can earn anything from £500 to £1000 or more but again it's all about how much you put in and good drivers will usually get good tips for going that extra mile.
You will find that income will fluctuate week to week with busier and quieter periods depending on when you are working. Festive times such as Christmas and New Year will see more cab rides, and generally more generous tippers.
Of course you've got to take your expenses into account. The primary one being fuel and maintenance of you vehicle but you will have to pay money to the operator and this will either be commission based or a flat rental fee.
You must also be aware that you will be technically self-employed so you won't get holiday or sick pay so when you're not behind the wheel you're not earning.